All-in-One Entertainment in the Heart of Orchard: K Bowling Club @ 313 Somerset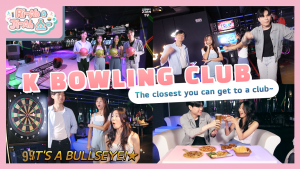 It's been a while since the pandemic hit and it seems also almost impossible to escape from the COVID-19 blues. Our social lives might be the hardest hit but fret not, we have the right cure for you. Located in the heart of Orchard at 313@somerset, K Bowling Club is a futuristic-themed multi-entertainment venue that offers a lively ambience, neon lights, and rave music for the ultimate hangout session. With Cosmic Bowling, Darts, Pool, Arcade Games, Claw Machines, a Bar serving food and drinks (both alcoholic and non-alcoholic), and a Lounge to chill over PlayStation games, there is definitely an activity for everybody here.
Cosmic Bowling With Flashing Lights and EDM
Cosmic bowling adds a creative and fun twist to the original game of bowling. You get to bowl with cool flashing neon lights and adrenaline pumping techno music playing in the background – an atmosphere similar to what you'd find in a club. This might be the closest you can get to your previous nightlife clubbing routine for young partygoers during this period! Best part is, you won't end up puking at the sidewalk after a fun and crazy night here. However, you might still need that Grab ride back home if you are playing till late.
Darts, Pool, Arcade Games & Claw Machines
If Cosmic Bowling isn't your thing, there is a wide array of other activities that you can choose from. Battle it out with your friends through a game of darts, pool or even old-school arcade games like Street Fighter. Guys, there's even a claw machines for you to impress the ladies with.
IG-worthy Backgrounds To Snap OOTDs
If you are the kind who enjoys capturing every favourite memory on camera and taking those fabulous OOTDs, there is a perfect spot here for you. Look inside and you will find Instagrammable backdrops with neon lights to take that perfect picture to upload on social media on a Friday night.
Lounge That Serves A Wide Selection On Their Menu
If you prefer to conserve your energy and have a relaxing night, then the Lounge is the place you want to be. Fill your stomach with delicious pizzas or finger food while sipping on your favourite cocktails prepared on the spot at the in-house bar. What better way is there to enjoy your night over good drinks and food with friends?
If you are up for a little excitement with video games from the comfort of the couch, do take advantage of the PlayStation 4 that they have at the lounge! Enjoy a lazy but fun night with your friends over popular titles such as Overcooked. Just remember not to shout at your friend who has bad coordination skills.
Located Right In The Heart Of Town
Whether it's chill night out with friends or you're bringing your kids out to have some quality family time, K-Bowling Club has all your needs fully covered. It is the perfect entertainment hub in the middle of town that can take up your whole day or night. Gather your friends and head down to K-Bowling Club today!
Check out the activities you can do in this video:
https://www.youtube.com/watch?v=wRgdhS8W_wU (to embed)